New to bamboo?
Oh, honey, you have no idea. You've got to try it!
Super Soft
Seriously buttery soft, and never irritating on sensitive skin.
An irritated baby? No thanks.
Perfectly Stretchy
Play and sleep safe without bulky material that bunches and pulls.
Imagine your favorite pair of leggings, but all over.
Temperature regulating
Ultimate in breathability to keep your little nugget juuusst right.
Because a sweaty baby is a mad baby.
Defiantly Durable
Bamboo holds up through tons of wear and washings.
And stain removal is a snap. Can I get a witness?
As seen in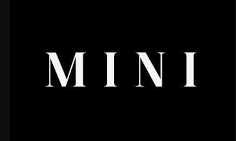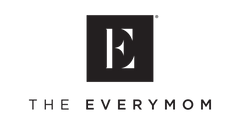 Bamboo doesn't have to be boring.
We work with global artists for exclusive prints, patterns and designs that keep our looks fresh, fun, and oh-so-adorable.
When you shop Kiki + Lulu, you get to support for a real live artist, and your baby gets to be comfy, cozy, and crazy cute.
CUSTOMER L❤️VE
These jammies are the softest I've ever felt! Amazing quality and the customer service is better than any other company!

Samantha

Just wanted to say we got our Soy Hungry jams SO FAST and they're SO GOOD. Everything about them makes me smile. They're incredibly soft and colors are super saturated and bold. Truly obsessed. Y'all got a customer for life for sure!

Lexi

The quality of the material is soooooo soft and snuggly. Put in a request for some PJ options for adults!!! I'm being serious.

Toni

"In love with our new footies! They are so soft!"

Kate

"Just discovered your new line and I am OBSESSED!!!!"

Kristin

"New favorite baby brand! You've got a life long customer in me."

Amber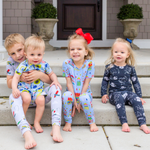 The who's who at Kiki +Lulu
We know the days feel long sometimes. We've been there.
That's why we believe you deserve to soak up all the cuteness, joy, and love you can get.
As a family-owned business run by four moms, we've made it our mission to offer the highest quality bamboo baby clothes featuring prints that bring lots of joy to the little moments in your life.
That's why our family is here. We're so glad your family is here too.
MORE ABOUT Kiki+Lulu
Gift like a bamboo boss.
Get ready to win the loudest and most high pitched "aawwwwwh!!" when the mom-to-be opens your baby shower gift.
Shop the Cutest Baby Clothes
always unique
highest quality
totes adorbs
You're invited!
Join our VIP Facebook sign up for sneak peek-a-boos and first picks on exclusive prints.

Join the par-tay!
Follow Kiki + Lulu on the 'gram for fun, friends, and the best in bamboo baby fashion.